In the dynamic landscape of streaming devices, one contender has risen above the rest, promising an unrivaled home entertainment experience - the SuperBox S5 Max. Far more than a mere streaming device, the S5 Max stands as a comprehensive entertainment solution, artfully combining cutting-edge features, upgraded hardware, and an unyielding commitment to customer satisfaction, poised to redefine the very essence of home viewing.
Embark on a Revolutionary Entertainment Journey
In the ever-changing realm of home entertainment, the SuperBox S5 Max shines as a beacon of progress. It surpasses the conventional streaming device, embodying a complete entertainment solution by harmonizing state-of-the-art features with upgraded hardware. Beyond mere functionality, the S5 Max promises an unparalleled viewing escapade, redefining standards for innovation and immersive engagement in the vibrant landscape of streaming devices.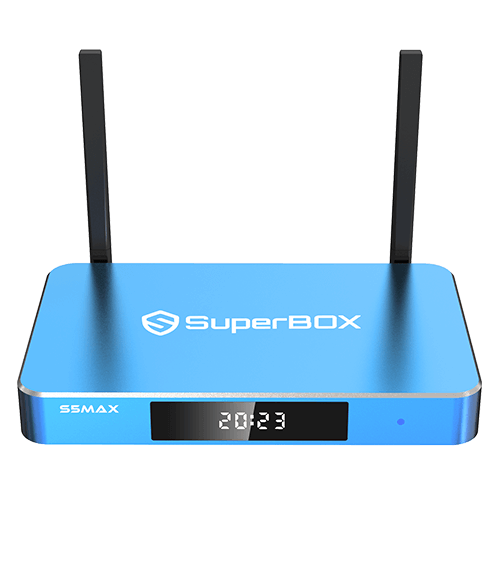 With a remarkable 72% boost in speed and stability, the S5 Max transforms TV watching into a captivating journey. Setting up is a breeze – connect the HDMI cable, sync with Wi-Fi, and delve into a world of TV programs, movies, and series. From extreme performance with 4GB RAM and 64GB storage to a premium aluminum build, Android 12 operating system, and WiFi 6 capability, every facet of the S5 Max is designed for excellence.
Benefiting from no subscriptions or hidden fees, over 1200 HD live channels, and a vast library of 10,000+ movies and TV episodes, the S5 Max caters to diverse entertainment preferences. Its technical prowess is equally impressive, featuring a quad-core processor, dual-band WiFi, 6K Ultra HD resolution, and Bluetooth 5.2 connectivity.
In essence, the SuperBox S5 Max is not just a streaming device; it's a gateway to a realm of boundless entertainment possibilities, offering power, performance, and convenience in one sleek package. For an immersive experience, choose the SuperBox S5 Max and elevate your home entertainment to unprecedented heights.
New Features of Superbox S5 Max
Extreme Performance: Armed with 4GB RAM and a whopping 64GB internal storage capacity, the S5 Max guarantees not just speed but a storage reservoir capable of accommodating the most voracious of media appetites.
Premium Build: Crafted from aerospace-grade aluminum, the device not only exudes durability but stands as a testament to engineering excellence.
Android 12: Immerse yourself in seamless speed and robust performance, courtesy of the latest Android operating system that propels the S5 Max into the echelons of technological sophistication.
WiFi 6: Bid farewell to the irksome buffering and lag of yesteryears; indulge in the indulgent luxury of lightning-fast streaming, unmarred by interruptions.
Bluetooth 5.2: Forge connections effortlessly with enhanced multi-device connectivity, as the S5 Max seamlessly bridges the gap between your devices.
1000Mbps Ethernet: A dedicated pipeline for lightning-fast internet connectivity ensures that your streaming experience remains uninterrupted and fluid.
Upgraded Voice Command Feature: Witness a new era of interaction with improved accuracy and responsiveness in the voice command feature.
Support for up to 6K Content: Immerse yourself in the visual splendor of 6K content, experiencing a level of clarity and smoothness hitherto unparalleled.
Refined User Experience: Simplicity meets sophistication, as the S5 Max offers a user experience that is both intuitive and powerful.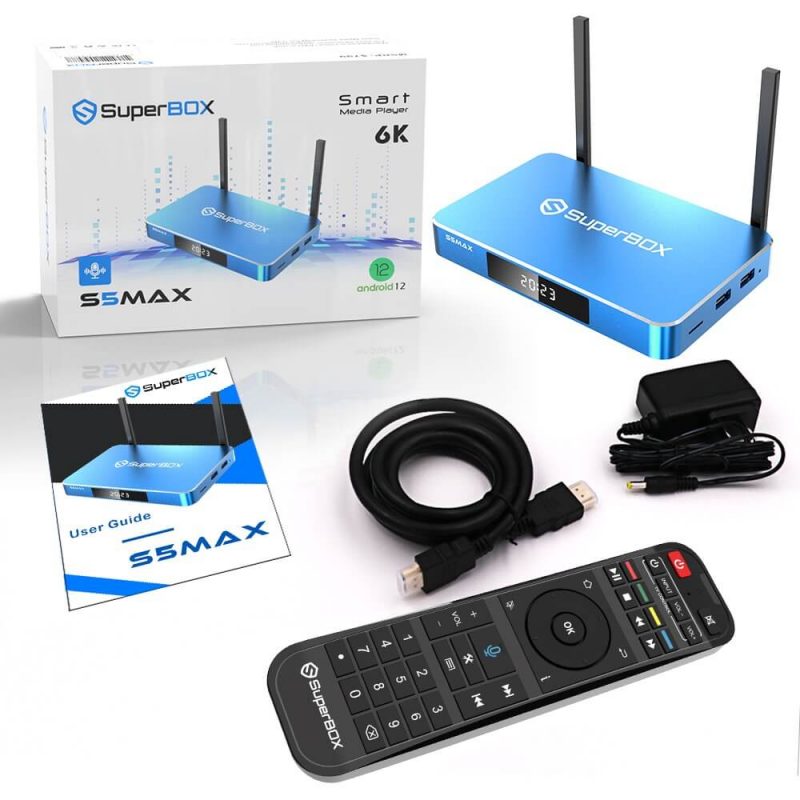 Benefits of S5 Max
No Subscription, No Hidden Fees: Liberation from subscription shackles – invest in the S5 Max, and unlock a lifetime of streaming in the USA and Canada without hidden costs.
1200+ HD Live Premium Channels: Immerse yourself in the diverse tapestry of live news, sports, politics, and entertainment from over 1200 high-definition channels.
Endless Entertainment: Traverse a vast landscape of 10,000+ movies and TV episodes spanning every conceivable genre, ensuring there's always something for everyone.
HD Live Sports Packages: From the gridiron glory of NFL to the hardwood battles of NBA, the S5 Max ensures you never miss a sports beat.
7 Days Playback Function: The past week's events are never truly in the past with the S5 Max; relive any program within a seven-day window.
Fully Loaded: Forget tedious setups; plug in, connect to the internet, and experience the full spectrum of entertainment in under 5 minutes.
High-Quality Streaming Output: Marvel at the S5 Max's support for 4K/6K Ultra HD resolution and HDR, delivering a visual feast marked by unparalleled clarity.
Works in Every Country: The S5 Max is your globetrotting companion, conveniently carried during travels; all you need is a TV and an internet connection.
Technical Details of Superbox S5 Max
Operating System: Android 12
Processor: A Quad-Core ARM Cortex-A53 powerhouse
RAM: A substantial 4GB DDR3 Memory
Storage: An expansive 64GB eMMC
GPU: A Mali-G31 MP2 visual juggernaut
Expanded Memory: Elevate your storage capabilities with support for up to 128GB
Antenna: A dual-transmitter, dual-receiver configuration (2T2R)
WiFi: Revel in the dual-band luxury of 2.4G & 5G, featuring Wifi 6 technology
Ethernet: A dedicated Network RJ45 with a staggering 1000Mbps speed
Resolution: Marvel at 6K Ultra HD visuals that redefine clarity
Bluetooth: Seamless connections ensured with Bluetooth 5.2
Video Decoder: H.264 BP/MP/HP Level 4.2, 4k@60fps, ensuring a visual spectacle
Power Supply: A reliable DC 5V/2A power source
Warranty Period: A robust 1-year assurance of quality and performance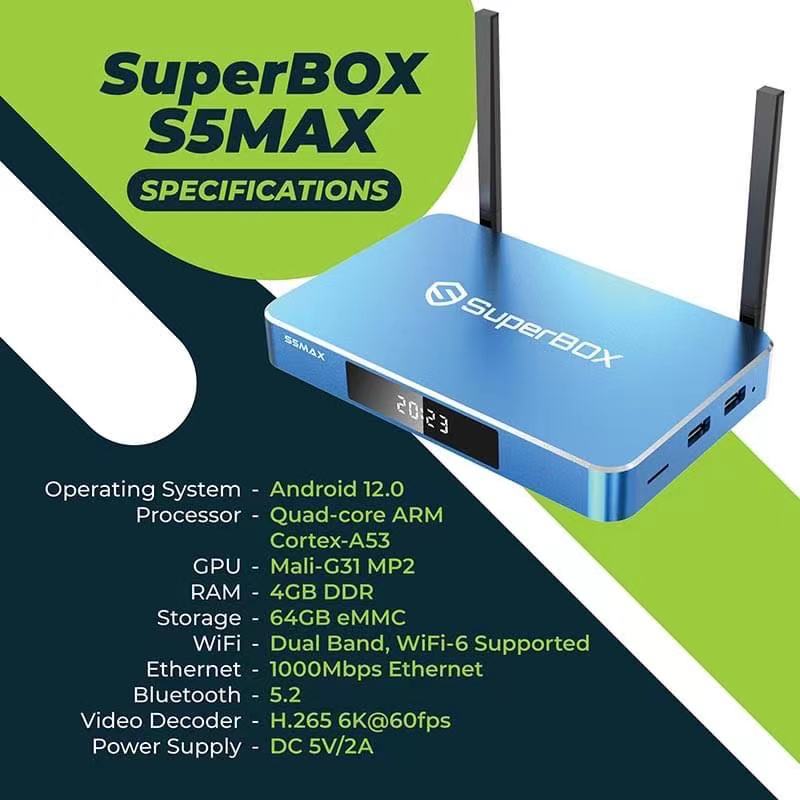 The SuperBox S5 Max isn't just a device; it's an invitation to explore a universe of boundless entertainment possibilities. Experience the future of streaming where power, performance, and convenience converge seamlessly. For an in-depth understanding of our products and order processes, delve into our FAQs. Elevate your entertainment – choose the SuperBox S5 Max.
View Product : Superbox S5 Max